Salary:
Consultant (£96,963 - £128,841)
Job closing date:
22/11/2023
Job Type:
Medical and Dental
Location:
Argyll and Bute Hospital
Employment type:
Permanent
Job posted date:
16/10/2023
Employer (NHS Board):
NHS Highland
Department:
Mental Health Services
Job Advert
NHS Scotland is committed to encouraging equality and diversity among our workforce and eliminating unlawful discrimination. The aim is for our workforce to be truly representative and for each employee to feel respected and able to give their best. To this end, NHS Scotland welcomes applications from all sections of society.
This is a replacement post within the Argyll and Bute HSCP due to retirement. The post is devoted to the further development of services for individuals experiencing problematic drug and/or alcohol use and offers an opportunity to work with a small group of committed clinicians who deliver an excellent standard of care.
The Argyll and Bute Drug and Alcohol Recovery Service has been an integrated health and social care service since its inception in 2008. There are 13 nurses, 2 social workers and 2 support workers in small teams throughout the area who work in collaboration with local GP services to provide a high standard of care. The post holder would be expected to provide a clinical leadership role within this and provide specialist advice and support to the GPs who are providing opioid replacement therapy within a shared care locally enhanced service.
In addition to this the post holder would be expected to provide supervision to non medical prescribers within the team.
There will be an opportunity to further develop the service to achieve the aims of the Scottish Government Strategy Rights, Respect and Recovery (2018).
The post is for 8 programmed activities (sessions) per week with 1:8 on call supplement and the post holder will be welcomed into a friendly and forward thinking team of consultants where peer support is valued and protected. Addictions clinics will be in Helensburgh, Dunoon, Rothesay, Oban, Campbeltown and Lochgilphead. Participation in teaching will be possible. Junior support provided both for inpatients and liaison.                                                                                                           
Applicants must be on the General Medical Council Specialist Register with a Licence to Practice or within 6 months of obtaining CCT at time of interview.
For further information relating to this post please contact Dr Paul Morrison, Clinical Lead by email  paul.morrison3@nhs.scot
For further information on NHS Highland, please visit our website on www.nhshighland.scot.nhs.uk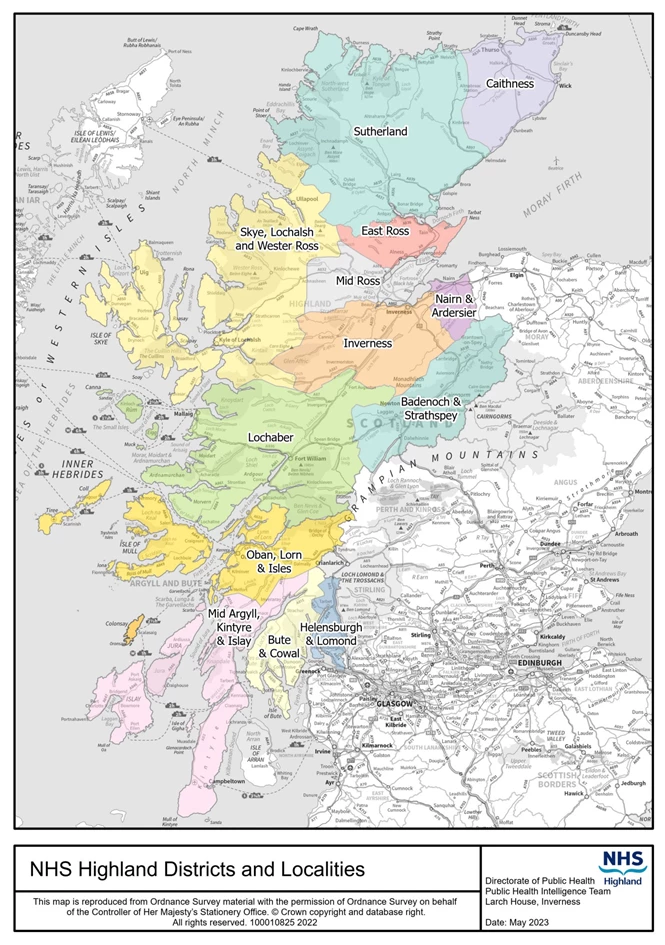 ADDITIONAL INFORMATION FOR CANDIDATES
You should apply for this post by completing the application process on Jobtrain.

DO NOT upload a CV as this will not be used for short listing purposes

Posts close at midnight on the indicated date

For help to complete an application on Job Train please follow this link: https://www.careers.nhs.scot/how-to-apply/application-process/
To view our accessibility statement, please follow this link: https://www.eess.nhs.scot/jobtrain-accessibility-statement/

Please note that our correspondence method is by e-mail, therefore please ensure you enter your email address accurately

Please check your e-mail regularly (including junk folders) and also your Jobtrain account for updates

Please contact Jobtrain Candidate Support Hub - https://jobseekersupport.jobtrain.co.uk/support/home for advice and support with any system issues

We recommend using the Internet Browser "Google Chrome" or "Microsoft Edge" when using Jobtrain

Once you have submitted your application form you will be unable to make any amendments

Some of our vacancies are for internal candidates only. If you are a member of staff, please ensure you update your Jobtrain profile to reflect that you are employed by NHS Highland





NHS Highland is geographically the largest of the 14 regional boards of NHS Scotland, covering an area of 12,500 square miles, across Highland and Argyll & Bute.
As a board we strive to ensure the environment is conducive to nurturing a positive culture, supported and delivered through our NHS and Social Care values.
| | | | |
| --- | --- | --- | --- |
| Care and compassion | Dignity and respect | Openness, honesty and responsibility | Quality and teamwork |
| | | | |